Rated by CNN as one of the world's
"Must See Exhibitions."
ABOUT THE ART OF THE BRICK
ART OF THE BRICK is an international touring exhibition rated by CNN as one of the world's "Must See Exhibitions." These are the first art exhibitions to focus exclusively on the use of LEGO® bricks as an art medium and Nathan Sawaya has taken it to new heights.
Art fans and toy fans alike will delight in the immersive displays of sculptures, portraits and imaginative objects constructed from the popular Danish building blocks. Representing millions of individual pieces in more than 35 colors of standard LEGO® bricks, visitors to the ART OF THE BRICK will find themselves transported on an emotional journey as they take in the meticulously crafted, large-scale works that Sawaya painstakingly built - one brick at a time.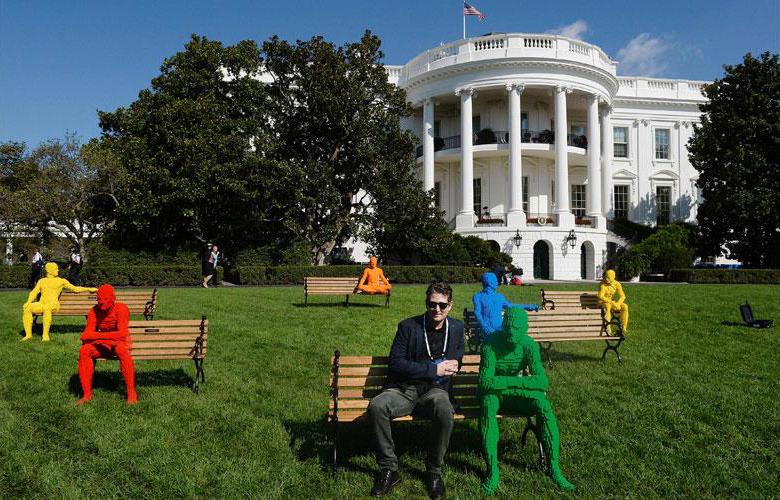 Much of the collection of artwork focuses on themes of construction, deconstruction, metamorphosis and several examples of transformation, including "Yellow" which has become one of Sawaya's most iconic and recognizable sculptures. This iconic piece was created from 11,000 individual yellow bricks more than a decade ago and depicts a human figure ripping open its own chest.
In addition to creating experiences that inspire imagination, most of the venues feature interactive hands-on building areas where kids of all ages can enjoy LEGO® for its most basic quality, which is that creativity is universal and that anyone can be an artist. Come show us what you can do!
"These exhibitions are accessible because they engage the child in all of us while simultaneously illuminating sophisticated and complex concepts. Everyone can relate to the medium since it is a toy that many children have at home. My goal with these exhibitions is to elevate this simple plaything to a place it has never been before."
- artist, Nathan Sawaya
"NATHAN SAWAYA LEGO® CREATIONS ARE AWESOME..."
- THE HUFFINGTON POST
"DON'T MISS!"
- NEW YORK POST
"AMAZING LIFELIKE LEGO® MASTERPIECES"
- GOOD MORNING AMERICA
"A CNN Top 10 'Global Must See Exhibition'"
- CNN
"…THE PLAYFULNESS IS CONTAGIOUS"
- THE NEW YORK TIMES
"NATHAN SAWAYA USES 1.5 MILLION LEGO®S TO BUILD WONDERS"
- DAILY NEWS
"SAWAYA'S CREATIONS ARE LEGEND, HIS SKILLS REMARKABLE, HIS PATIENCE UNFATHOMABLE."
- LONDONIST
"ART OF THE BRICK IS PRETTY MUCH BLOWING OUR MINDS…."
- CONDE NAST TRAVELER
"A BREATHTAKING EXHIBITION…THOUGHT-PROVOKING, VISCERAL, PLAYFUL AND INSPIRED"
- TIME OUT NYC
"ANYTHING BUT CHILD'S PLAY"
- THE WALL STREET JOURNAL